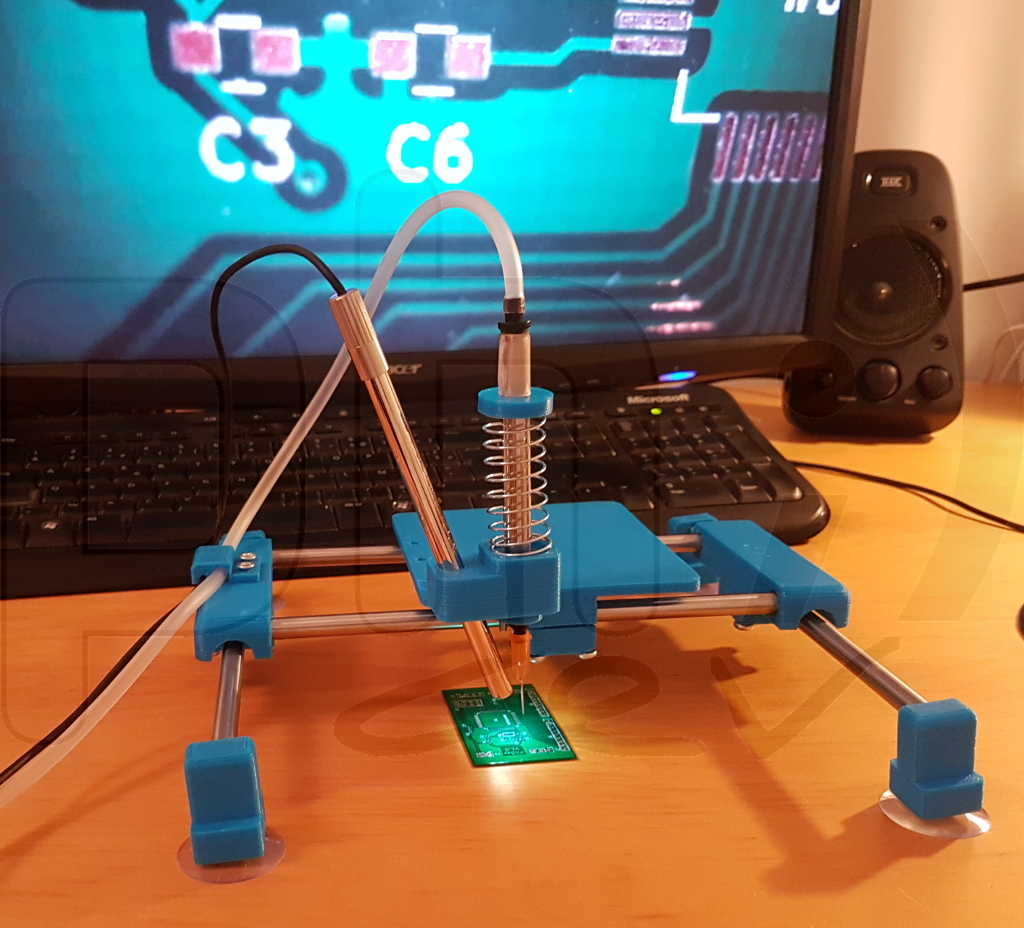 You must be very patient and careful to place SMD at their location using a simple clamp. A magnifying glass is also essential for some (this is my case). During my browsing on the Internet, I found manual "Pick & place" for SMD. I list in appendix the main articles that inspired me.
I wanted to take advantage of my 3D printer and I wanted a montage taking less space than those proposed, all not too expensive.
Characteristics
Cheaper
Basic
Removable
Take a minimum of space
Use on a desk
The cart where the hand rests can move in X and Y axis. The hand can move up and down the "pen" and turn it on itself. The vacuum pump is activated with a foot switch. A camera can display the work area on a screen. The chosen camera has its own adjustable intensity lighting and has a wheel to adjust the sharpness.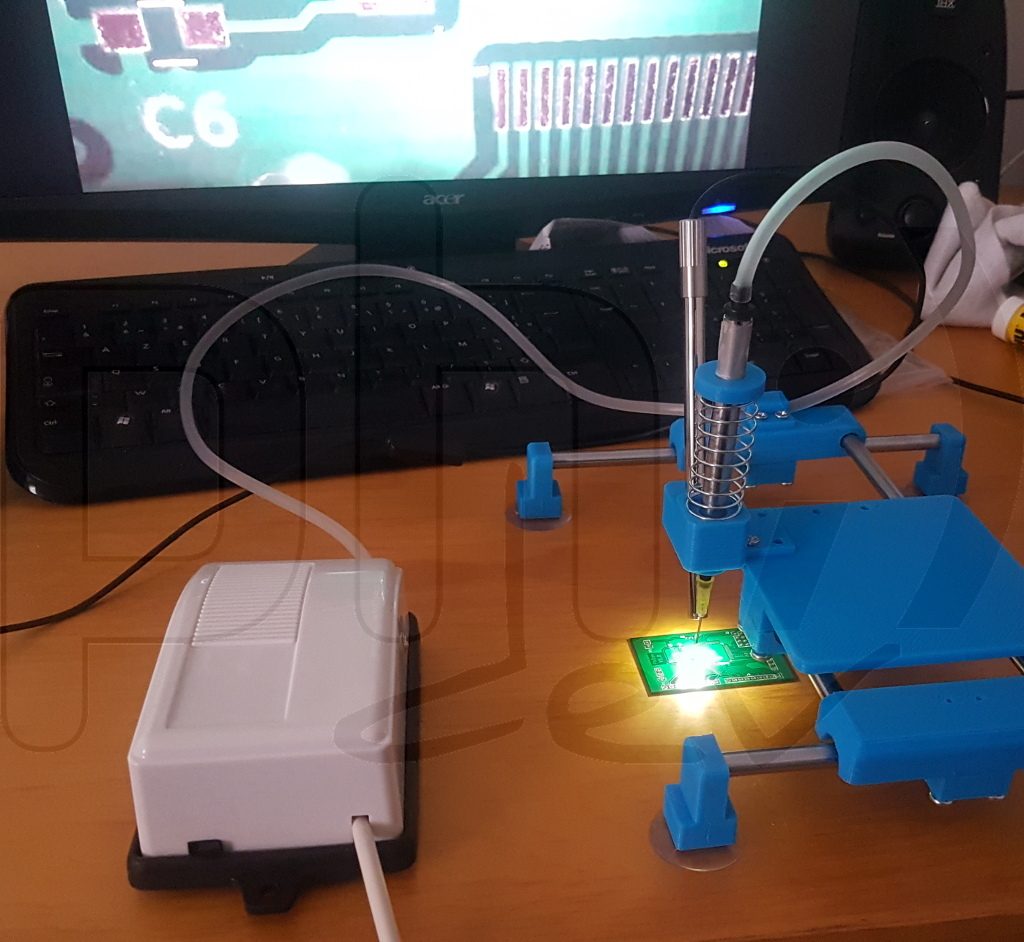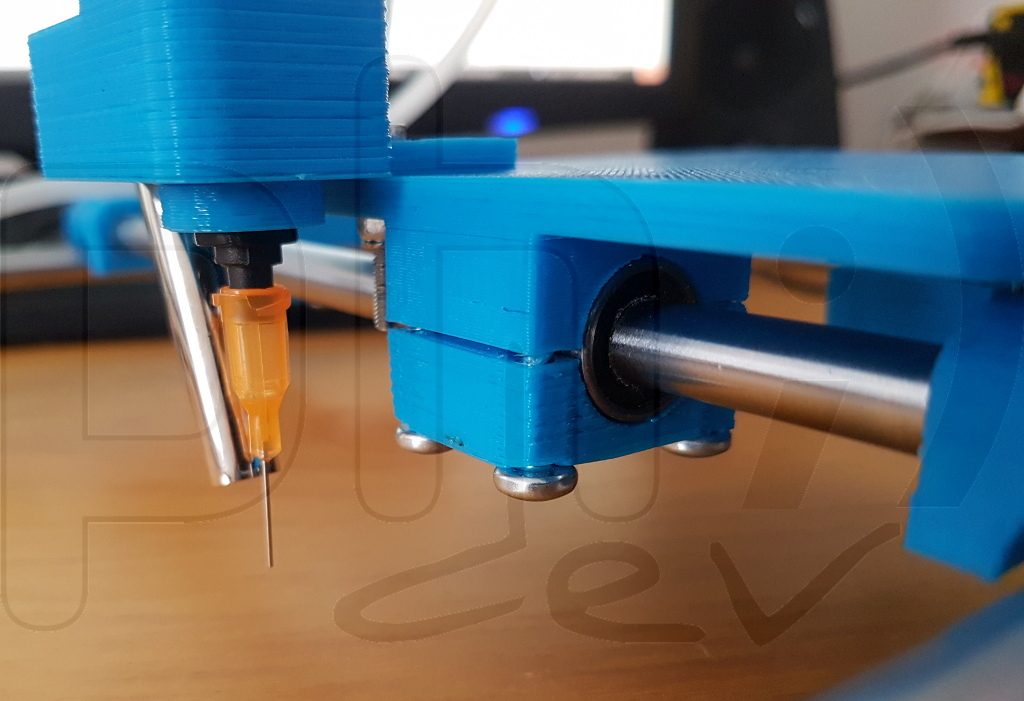 After making the pictures, I thought about the 17% left-handed, I added on the piece of the cart (STL file) 4 other holes to mount the "pen" and the camera on the other side.

The feet are mounted on suction cups to save space and avoid piercing my desktop. I enclose the STL file of the screw feet that I had planned at the beginning.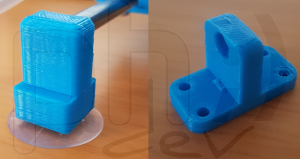 The "pen" supplied with the pump has a hole on the side. In normal use, the user obstructs or not the hole to catch the SMD. In our case, as we control the pump with a foot switch, this hole should be plugged with a small piece of tape.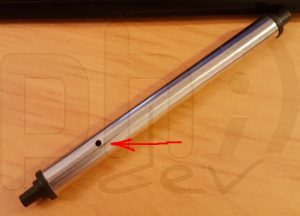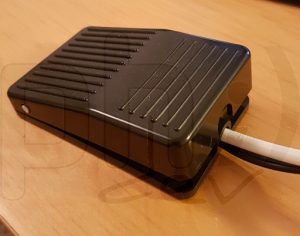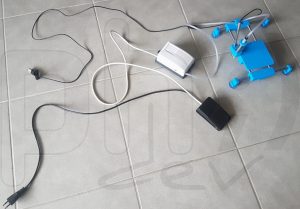 3D files
All 3D files are available on thingiverse.com
Bill of material
4 Metal bars 8mm length 200mm : https://aliexpress.com/item/Top-Quality-1pcs-OD-8mm-x-300mm-Cylinder-Liner-Rail-Linear-Shaft-Optical-Axis-chrome-For/32765592015.html
4 Bearings LMU8 : uxcell Ball Bushing Linear Motion 8mm x 15mm x 24mm Double Sealed 10 Pcs

1 spring 20x62mm : https://aliexpress.com/item/J568Y-5N-Tension-Springs-20-62mm-Technology-Experiment-Pullback-Spring/32820987868.html
4 Suction cups 30mm : AxeSickle 100pcs 30mm Diameter Mini Clear Plastic Suction Cup without Hooks.

Vacuum pump : https://aliexpress.com/item/QS-2008-Pick-and-Place-Vacuum-Pen-for-SMT-SMD-work/32765957311.html
Foot switch : https://aliexpress.com/item/AC-220V-10A-1-NO-1-NC-SPDT-Momentary-Foot-Controller-Pedal-Switch/32654635905.html
Camera : Digital Portable Android USB Microscope Otoscope Endoscope Inspection Camera with 10-200X Magnifier for Kids, Student, Household, Support Mac Windows PC Android
Sources of inspiration
* http://vpapanik.blogspot.fr/2012/11/low-budget-manual-pick-place.html
* http://www.briandorey.com/post/Diy-Manual-Pick-and-Place-Machine-part-1
* http://www.briandorey.com/post/Manual-Pick-and-Place-V2
* https://www.youtube.com/watch?v=O1YwpiJz1r8
* https://www.youtube.com/watch?v=6VO_nJH8A3I
* https://www.youtube.com/watch?v=IkCfianIZ3U
* https://www.youtube.com/watch?v=-_I7bbFCTVI
* https://www.youtube.com/watch?v=RF1IqBJ1RI0
* https://www.youtube.com/watch?v=0rpROkZjQdk
* https://sites.google.com/sharrison.net/diy-manual-pnp-machine // wood version 🙂